— Less incidence – more hairdresser —
We are here for you again. We currently apply the 2G rule (vaccinated or recovered).
And so that it continues after the crisis with the hair, we ask you to cancel us the appointments if you do not come.
Oliver Wegerich 06151.31 31 31 – Christine Wegerich 06151.2 43 59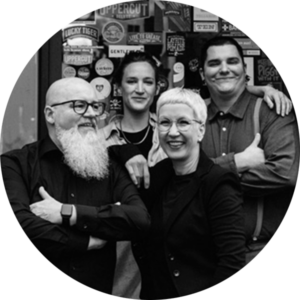 We thank you all very much for your solidarity in the unusual Corona times.
And remember the Corona requirements imposed on us. Enjoy Good-Hair-Days with distance.
---
High-class craftsmanship & good old rock'n roll
The Salon Wegerich has a rich family tradition in providing jolly good hair days, going back to 1895. One of the secrets behind the oldest barber family in Darmstadt: time itself – the most important requirement for solid, old-fashioned craftsmanship and honest, highly individualized consultation. Only with time, the strongly valued quality of our barbers and hairdressers can calmly unfold, and creativity can blossom. After all, beautiful hair needs time – if it grew faster, many customers would probably visit us even more often.
From classic cuts with comb & scissors to rock'n'roll with razor'n'knife: you won't find anyone rushing in tense atmosphere. So let's just arrange an appointment. Be sure to arrive with ease and leisure. And savor the rare enjoyment of being idle and pampered!
Looking for good news? Find'em continuously updated here: NEWS + SOCIAL.

Barber & Hairdresser Champion
Oliver Wegerich
(+49) 6151.31 31 31
Schepp Allee 20
64295 Darmstadt, Germany
Tue, Thu, Fri 8.30 am to 6 pm
Wed 8.30 am to midnight
Sat 7 am to 1 pm

Time for you

High-quality craftsmanship takes time. In order to have as much time as we like to attend to our customers, we kindly ask you to make an appointment. To schedule an appointment, feel free to stop by any time or call directly in the salon.

Hairdresser Champion
Christine Wegerich
(+49) 06151.2 43 59
Wilhelm-Leuschner-Straße 56
64293 Darmstadt, Germany
Tue to Fri 9 am to 6 pm
Sat 8 am to 1 pm

Thera
Hong Kong, New York, Tokio
and the hair fits

Kirsten
Your hair is 90 %
of your selfie

Nico
Personality starts
with the hair
Giving you all the time you need: our dedicated team.
A pleasant conversation. People, who know what they are talking about and listen to you closely. It's all about understanding what you and your head want and need. With no hurry, we dedicate ourselves to taking care of your hair – as Einstein said: Time is relative, and to us, it is relatively important.
The heads behind this magical time slowing temple are Christine and Oliver Wegerich. Both have been beautifying people since the early 1980s. The two salons have a long-standing cooperation with leading global hairstyle brand Goldwell. Starting in 1984, Olli earned some reputation as hair artist and educator all around the world. In addition, he functions as master trainer and spokesperson for the Goldwell brand, and since 2015 also for salon-exclusive brand KMS, nationwide as well as internationally.